---
SELECTED SOLO EXHIBITIONS
---
2014 – THE ARTS PROJECT – London, ON – "The Healing Garden"
1997 – GYPSY CO-OP – Toronto – "Dreamscapes" – acrylics on canvas
1993 – GALLERY VOLTAIRE – Toronto – "Decision 93" – art auction
1992 – 492 AD – Toronto – "Art or Smut" – works on canvas
1992 – THE FACTORY CLUB – Toronto – "Anti-Chic Fashion Theatre" – "a plethora of fashion, art and music"
1991 – ARTISTIC CONCEPTS CORPORATION – Toronto – "The Paintings of Ann-Marie Cheung" – art auction
1991 – THE LAST TEMPTATION – Toronto – "Ascensions of Liberty" – mixed media paintings
1991 – THE LIVING WELL CAFÉ – Toronto – "Extensions of Liberty" – mixed media paintings
1991 – CLUB MAX – Toronto – "A Barbed Wire Kiss" – a performance fashion event featuring the work of Ann-Marie Cheung
1991 – KISS KISS BANG BANG – Toronto – "The Censored Show" – acrylics on canvas
1991 – THE CATCH GALLERY – CATCH 22 – Toronto – "The Lost Decade" – paintings
1990 – KASPER-HAUSER GALLERY – Toronto – "The Rock, The Vulture and The Chain" – oil and acrylic paintings
1989 – GALLERY UHF – Ottawa – "Lyrical Liberties" – paintings and collage
1989 – WIM CAFÉ & GALLERY – Ottawa – paintings, drawings and collage
1988 – THE IGUANA CLUB – Ottawa – acrylics on canvas
1988 – THE GALLERY OF ART – Ottawa – "Beauty and the Beast" – paintings
1987 – THE ARTS CLUB – Vancouver – "Butterfly Scream" – acrylics on canvas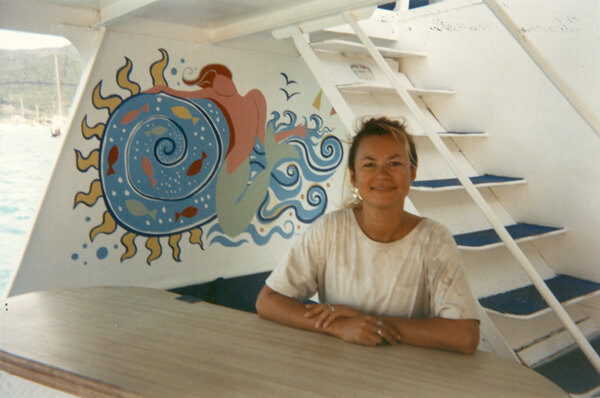 ---
SELECTED GROUP EXHIBITIONS
---
2015 – ART GALLERY OF LAMBETH – London, ON – Resident Artist
2015 – THE WESTLAND GALLERY – London, ON – 2015 Juried Miniature Art Show & Sale
2015 – THE WESTLAND GALLERY – London, ON – Art from the Heart
2014 – ST THOMAS-ELGIN ARTISTS' GUILD 8th ANNUAL SHOW & SALE – CASO Station, St Thomas, ON (juried) *Awarded Honourable Mention*
2014 – GRAVEN FEATHER GALLERY – Toronto – IN THE ROUND group exhibition
2014 – THE ART EMPORIUM – Port Stanley, ON – Juried 1, 2, or 3 Square Foot Show
2014 – ART GALLERY OF LAMBETH – London, ON – Summer Sizzler Show (Juried)
2014 – WESTMOUNT ART CENTRE – London, ON
2014 – MOSAIC: Art, Culture and Development – The Windermere Manor, London, ON. A charity art auction event in support of Engineers without Borders' development work in Africa
1996 – GYPSY CO-OP– Toronto – a preview group show of paintings
1996 – ARTS LIES CABARET – Toronto – a multi-media event featuring works on canvas, live music and body painting
1995 – ANIAS – Toronto – paintings created in the Caribbean
1991 – THE OPERA HOUSE – Toronto – "Altered States" – a performance fashion event featuring works by Ann-Marie Cheung
1990 – 4th TORONTO INDOOR ARTISTS FAIR – St. Lawrence Market Toronto – organized by Artpost Magazine – mixed media
1990 – GALLERY 306 – Toronto – 4th Annual Open Juried Show – mixed media
1990 – THE CUMBERLAND UNDERGROUND – Ottawa – mixed media
1990 – THE CARL DAVIS GALLERY – Ottawa – "The Big Bang Show"
1989 – GALERIE SAW VIDEO – 101 GALLERY – Ottawa – "The Last Art Auction of The Decade"
1989 – CAFE AUX QUATRE JEUDIS – Hull, Quebec – 9×9 show
1989 – WILLIAM STREET CAFE – Ottawa – "A Two Women Show" – paintings and collage
1989 – UNIVERSITY OF OTTAWA – "Vue De Femmes" – paintings
1989 – THE GALLERY OF ART – Ottawa – a retrospective show of gallery artists
1984 & 1983 – THE ONTARIO COLLEGE OF ART – Toronto – open house
1979 – THE TORONTO DOMINION CENTRE – Toronto – charcoal drawings
---
PROJECTS
---
2002 – 2010 – Founder/Curator of Flash Goddess Gallery  – An online showcase for experimental and artistic new media experiences. We provide a setting for innovative work that may be considered too experimental for commercial projects.  

The goal of the Flash Goddess Gallery is to extend the main Flash Goddess web site and highlight women who are pioneering in their use of Adobe Flash. We intend to bolster the exposure of women and give recognition to women of distinction in this field by providing a destination for experiencing creative interactive media.
We seek to inspire users to extend their view of Flash capabilities and to challenge their own creative limits by demonstrating a wide range of inventive uses of Flash.
The Gallery is still online but not updated regularly.
1989 – Co-Director of The Blacksmith Gallery– 285 St. Patrick Street, Ottawa
1988 – Assistant Director of The Gallery of Art – 660 Maclaren Street, Ottawa
---
PRESS
---
2014 – October 22nd – The London Free Press – London, ON – "On the canvas: ARTS project features both nature and whimsy"
1997 – March 7th – Globe and Mail– Toronto – "Mixing palettes and palates"
1996 – April – CIUT FM Radio – Toronto – interviewed on the programme – "By All Means"
1991 – April 1st – Wireless Flash – San Diego C.A. – published by Copley Radio Network – "Art or Smut"
1991 – March 14th – The Montreal Gazette – Canadian Press – "Police order shop to remove bondage art"
1991 – March 12th – CFRB Radio 1010 AM – Toronto – interviewed by Wayne Maclean on his phone in talk show
1991 – March 8th – The Toronto Star – "Painter Defends Her Work"
1991 – February 15th – The Toronto Sun – "Bondage Scenes Stir Controversy"
1989 – January – CFUO FM Radio – Ottawa – interviewed on the programme – "Stopframe"
1989 – January 5th – The Ottawa Citizen – "Comic Book Women" – The Gallery of Art show reviewed by Nancy Baele
1988 – February – CFUO FM Radio – Ottawa – interviewed on the programme "Fine Lines"
---
PUBLIC COLLECTIONS
---
CANADA COUNCIL ART BANK – Ottawa, Canada
The Queen, 1989, Work on paper, ID# 89/90-0045
Queen Elizabeth II – London, England
---
AWARDS/GRANTS
---
2014 – ONTARIO ARTS COUNCIL Exhibition Assistance Grant
2014 – ST THOMAS-ELGIN ARTISTS' GUILD 8th ANNUAL SHOW & SALE – Awarded Honourable Mention
---
PUBLICATIONS
---
Zen Doodle Tons of Tangles
October 2013
edited by Tonia Jenny and Amy Jones
A curated collection of Zen doodle drawings features the best new tangles the community has to offer! Be inspired by large full-color tangles from fellow artists and read about their drawing processes as you journey through the four sections of this book: Abstract Doodles, Shapes and Objects, Animals and Beasts, and Friendship and Love. You'll discover over 100 unique Zen doodle prompts and art from artists around the world.
---
EDUCATION
---
2012 – RCM Artist-Educator Foundations Course – Certificate
The Royal Conservatory, Learning Through the Arts® (LTTA)
1998 – Digital Web Design – Certificate
DIGITAL MEDIA STUDIOS, Toronto
1997 – Interactive Multimedia Design and Production – Certificate
DIGITAL MEDIA STUDIOS, Toronto
1980-84 – Interdisciplinary Art Studies – Diploma (Associate of the Ontario College of Art)
OCAD UNIVERSITY (formerly the ONTARIO COLLEGE OF ART), Toronto
---
MEMBERSHIPS
---
The ARTS Project
2014 – Present
St. Thomas-Elgin Artists' Guild
2014 – Present
2015 – President
St. Thomas-Elgin Public Art Centre
2012 – Present
Elgin Business Women's Network
2008 – Present
2009 – 2013 – Executive Committee, Website Administrator
---
Connect with me on Social Media



---